Welcome back to another edition of Page 2 Jeopardy!, the quiz that tests your knowledge of sports, pop culture and assorted trivia. Please remember to phrase your responses in the form of a question.
(Correct questions at the end of the quiz.)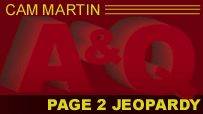 1. Answer: Angered by fans' impatience with his team, this NFL coach went on his weekly radio show and told unhappy callers to "go find another team to cheer for."
2. Answer: Attempting to make a comeback in the NBA Developmental League, this rusty former star threw up 13 points (and an air-balled free throw) in his first game back.
3. Answer: This basketball-crazed southern city, which used to play host to an ABA team, reportedly has the investment support of an undisclosed billionaire and is interested in luring an NBA team if the opportunity arises.
4. Answer: With his 319-yard passing performance against the Titans on Thursday, Peyton Manning tied this quarterback for most career 300-yard games (63).
5. Answer: During an appearance on the "Ellen DeGeneres Show," this Academy Award-winning actor admitted he often waits till the last minute to buy Christmas gifts for his equally famous wife, saying he shops "at, like, CVS on the 24th."
Question 1: Who is John Harbaugh of the Ravens?
Question 2: Who is Antoine Walker?
Question 3: What is Louisville?
Question 4: Who is Dan Marino?
Question 5: Who is Ben Affleck?