The Sacramento Kings' inviting 25 local social-media influencers plus a guest to a home game isn't a wholly new idea.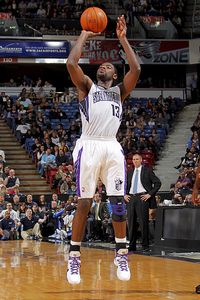 Rocky Widner via Getty ImagesTyreke Evans, the dance team and others were part of an effort to court social media influencers.
Teams such as the Cleveland Indians and Golden State Warriors have made similar overtures this year to sports-centric bloggers and fans on social media with treatment and access similar to what accredited members of the news media receive.
But the way the Kings went about it was different for Saturday's game, a 105-103 loss to the Dallas Mavericks at Arco Arena.
Sacramento was the first pro franchise to utilize Klout, a San Francisco-based company that identifies influencers by topic and ranks them via reach and popularity on social-media platforms such as Facebook and Twitter.
Klout's client base includes big-name brands such as Nike, Audi and Disney.
And the team targeted more than just die-hard Kings fans.
Though being an influencer in sports was a plus, Klout CEO Joe Fernandez said the team also went after parents who brought a child as a guest to tap into the family demographic.
It's a strategy that sought to bring the Kings' game experience to a wider array of potential fans.