We've had the Ninja Ducks, the Storm Trooper Ducks, and now we have -- well, what should we call these? Canary-legged Ducks? Tron-sleeved Ducks?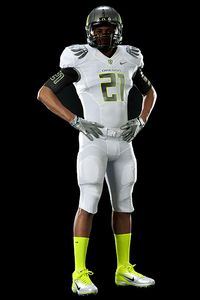 NikeThe new Oregon uniform for the BCS National Championship Game.
That's the new Oregon uniform for the BCS National Championship Game that was unveiled today. Auburn is the designated home team and will be wearing blue, so it was a given that Oregon would wear a white jersey. Surprising to see the Ducks going with white pants, though. And even more surprising to see those socks, which are straight out of the school's highlighter-yellow phase.
But wait, it looks like they're keeping their options open with black pants and socks, so this may end up being a one of those mix-and-match guessing games that continues right up until the Ducks come out of the tunnel Jan. 10. Seriously, will anyone be surprised if Nikegon scraps this look altogether and comes up with something entirely different for the big game in Glendale?
My initial take: Could be worse, but could also be a whole lot better. I'll have a full point-by-point Uni Watch assessment, along with an in-depth look at the new bowl game uniforms that are also being unveiled today for TCU, Florida and Boise State, here on Page 2 tomorrow. Meanwhile, post a comment to let us know what you think, because the whole point of this uniform is to get people talking.