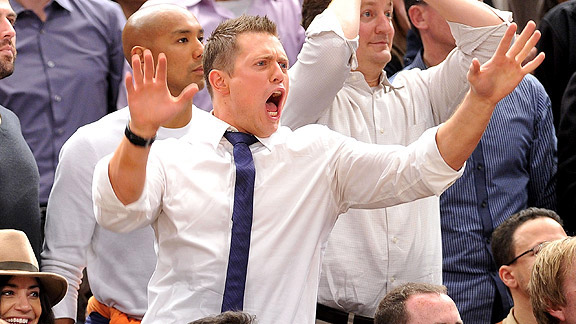 James Devaney/WireImageWhat's The Miz shouting about during the Knicks-Celtics game?
At Page 2, we know you're funny, so share your gift. We'll find a great photo, and you provide the caption.
WWE Champion (and former MTV "Real World" house member) The Miz attended the Celtics' 118-116 victory over the Knicks on Wednesday night at Madison Square Garden. He later posted a photo from his Twitter account of him on the floor of the Garden with the comment, "Knicks got robbed still a great game to see live."
Give us your best take of what he's screaming in the comments.
Update: The Miz responds on Twitter: "Tell the chick from piranha 3D [Jessica Szohr, to the left of him] to stop looking at my bootie."