This is your Pregame Flyover of Thursday night's game between the 49ers and Chargers, two teams which squandered all their vacation days during September and October and will now be working overtime to hit their end-of-year targets.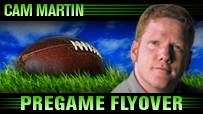 Philip Rivers, MVP candidate and more. When Drew Brees won last season's Super Bowl, he shed the title of Best Active Quarterback Not to Win a Super Bowl. He inherited the mantle from Peyton Manning, who wore it for years. Brees has now bequeathed the honor to Rivers, who's putting together an MVP-type season for the Chargers and could possibly lead his team deep enough into the playoffs to get waxed by the Patriots again. It's fitting that Rivers should hold this title after Brees, as Rivers succeeded him as the Chargers' starting quarterback. Rivers went 14-2 in his first year as a starter back in 2006, when people unfamiliar with his game wondered if he knew it was OK to throw the ball like a big boy and not heave it like some truant throwing rocks off an overpass. Everyone now knows the score: Rivers is a damn good quarterback for someone who does it all weird. But fans will only tolerate weirdness to a point; eventually it needs to be married to success or the masses will turn on you and call you a failure. Just ask Dan Marino or Randy Quaid; they'll tell ya.
This is a rematch of: Week 15 of the 1994 season, when the 49ers beat the Chargers 38-15 in San Diego. That was a relatively low-scoring game, at least compared to the subsequent Super Bowl, when San Francisco beat the Chargers 49-26. To date, that's the Chargers' only Super Bowl appearance. In summation: Stan Humphries >>>> Philip Rivers.
It's a short week, but the 49ers have probably scouted the Chargers better than the Chiefs did. On Sunday, the Chargers held the Chiefs' No. 1 rushing offense in check, with Jamaal Charles gaining just 40 yards on 10 carries in a 31-0 drubbing. Afterward, Charles said of San Diego, "We know their defense is not all that good, but hey, they came through today and stopped us." Yeah, the Chargers' defense only entered that game ranked No. 1 in the league, and thanks to Charles and his teammates, they retained that ranking. But it sounds like Chiefs coach Todd Haley had his team ready to play.
The 49ers have the best: Fourth-down defense in the NFL; teams have converted only 2 of 9 attempts (22 percent). They're tied with the Lions, another team which should not be trifled with on fourth down.
The 49ers can make history: No team has ever started 0-5 and made the playoffs, but San Francisco (5-8) is only one game behind St. Louis and Seattle in the NFC West and still has a chance to win its first divisional crown since 2002. Over the past six seasons, the division has been dominated by the mini-dynasties of Seattle and Arizona.