This season, some families will be decking the halls with awkward moments.
Athletes are no exception. Sit back and sprinkle a little stress into your eggnog while Page 2 offers up unusual family holiday moments.
Bowdens Home for the Holidays: Ann Bowden can finally have that real Christmas she's been dreaming of. Wife of Bobby and mother of Tommy and Terry, Ann was the one quoted as saying she could finally have everyone home for the holidays when Bobby was forced into retirement in 2009.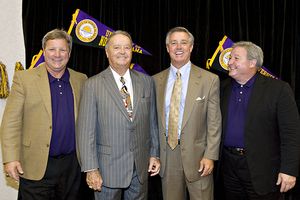 AP Photo/TimesDaily, Daniel GilesFor the first season in nearly 50 years, none of the Bowdens -- Jeff, Bobby, Tommy and Terry -- are coaching at FBS team.
This year marked the first time in nearly half a century that there wasn't a Bowden coaching on college football's highest stage. In fact, of the three who have been head coaches, only one is still coaching anywhere at all.
First Tommy was fired from Clemson in 2008, then Bobby was pushed into retirement. Only Terry is still coaching -- his Division II North Alabama team finished 11-2 this past season and lost in the quarterfinals of the D-II playoffs.
All that means there will be plenty of shop talk over turkey on Christmas, dag gummit!
Stanley Cup Envy: Chances are, most sons grow up dreaming of beating their dad in competition. Brad Aldrich succeeded -- without ever picking up a hockey stick when the Blackhawks won the 2010 Stanley Cup.
Brad was the Blackhawks' video coach last season when Chicago beat his father Mike's San Jose Sharks in the NHL Western Conference Finals before going on to the win the Stanley Cup. Mike, the Sharks equipment manager, has been in the league for two decades, but hasn't won a championship.
So, I'll Buy You Dinner: Maybe Adrian Gonzalez should consider buying his brother, Edgar, Christmas dinner this year. Though they might be eating sushi.
Edgar is four years older than Adrian. But age is about the only area where he's got the upper hand. Since Adrian signed a deal for more than $150 million with the Red Sox in early December, he's pulling in a little more coin than his former Padres teammate -- who now plays for the Yomiuri Giants in Japan.
Meet the Sutters: Talk about awkward. In November, Dad Darryl went and got his son, Darryl, a one-way ticket to a new job 2,500 miles and a country away from the family home in Canada.
Flames general manager Darryl Sutter traded his son Brett to the Carolina Hurricanes. The trade came a week after Brett was arrested in Arizona for allegedly assaulting a cab driver. Both say there are no hard feelings, but we wouldn't want to be around when the carving knife is out.