With all due respect to the great Roger Staubach and the North Texas Super Bowl Host Committee, it's time to back out of the big game. As I watched in person quarterback Michael Vick do the unthinkable and bring his team back from a 31-10 fourth-quarter deficit to the New York Giants in the Meadowlands, it became clear to me that the Philadelphia Eagles would represent the NFC in the Super Bowl in early February.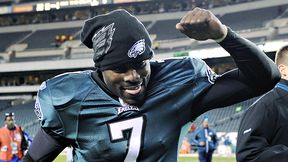 Barbara Johnston/US PresswireJerry Jones' nightmare scenario: Michael Vick and the Eagles in the Super Bowl in Dallas.
This is Jerry Jones' doomsday scenario. He'd dreamed of watching his team play in a Super Bowl at Cowboys Stadium. Now, it's almost guaranteed that the Cowboys' most hated rival will come swaggering into town. We know that Jones is close friends with New Orleans Saints coach Sean Payton and often plays elaborate pranks on him during expensive dinners, so that's who he'll be rooting for in the playoffs.
Jerry will be so determined to keep the Eagles or New York Giants out of the Super Bowl that he might allow Jason Garrett to consult with the Saints in the playoffs. I realize the Atlanta Falcons will be the No. 1 seed from the NFC, but they've already lost to the Eagles this season. And that was when Kevin Kolb was filling in for an injured Vick. The Falcons and their affable coach, Mike Smith, would be no match for the mighty Vick, who is making a run at the MVP trophy.