If 2010 has taught us anything about social media, it's that teams, leagues and athletes are no longer just spinning their wheels on Twitter, Facebook and the like -- they're driving toward that cold, hard cash.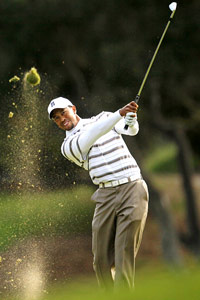 Stephen Dunn/Getty ImagesTiger Woods didn't win any tournaments this year, but he's earning more followers all the time on Twitter.
Sure, at their most basic level, these platforms still allow each to personally and immediately engage with fans, but with such engagement comes the opportunity for marketing. And if those fans and followers -- which often total in the five, six or seven figures for the most popular teams, leagues and athletes -- are given incentive to rebroadcast a brand's content, it all trickles down into their following's following, too.
Call it a perfect game of telephone in which your messages -- which include ticket deals and promotions -- are being whispered in real time to the masses. The more monitors, smartphones and tablets a brand pops up on, the better for business. Fans, whether they realize it or not, have become digital marketing and advertising arms for the teams, leagues and athletes they follow on social media in 2010.
As Shawn Tilger, senior vice president of business operations for the Philadelphia Flyers, told me on the phone last week about the team's new Facebook initiative (details of which I'll get to in a minute): "This is just a natural transition for us to make our fans an extension of our marketing efforts."
Where 2009 saw sports properties racking up a critical mass of followers, 2010 saw them putting those followers to work.
So let us count some of the ways teams, leagues and athletes leveraged their online following for revenue this year: