The Atlanta Falcons sit perched atop the NFC, thanks in large part to their unblemished home record. Atlanta is 6-0 at the Georgia Dome with home games against New Orleans on Monday night and Carolina in Week 17 remaining.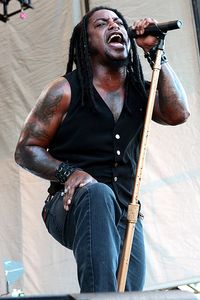 RaymonBoyd/Michael Ochs Archives/Getty ImagesSevendust singer Lajon Witherspoon isn't taking any credit for the Falcons' undefeated home record, but he's proud of the song's effect.
Opposing teams obviously must cope with Atlanta's offensive stars Matt Ryan, Michael Turner and Roddy White, but also a crowd worked into a frenzy by the hard-rock Falcons anthem sung by Atlanta-based Sevendust.
The song, "Falcons On Top" (iTunes | Amazon), has proved prophetic to this point, as the Falcons have a chance to wrap up the NFC's top seed and home-field advantage if they win out.
For lead singer Lajon Witherspoon, the decision to record a Falcons team song was a no-brainer and an honor. And he's quick to point out, the team hasn't lost since the song was played at a game.
"We can't take the credit," Witherspoon said. "But it's cool to think our song helps in some way in either motivating players or getting the crowd pumped up."
Sevendust is enjoying a rare break before heading back out on the road next month with Korn and Disturbed on the Monster Energy Music As A Weapon 5 Tour. The two-month layoff has allowed Witherspoon the chance to watch Falcons games with friends and family. Earlier this week, he took some time to talk with The Life about his love for his home team and the franchise's latest musical contribution.
The Life: I know you guys are from Atlanta, but how did "Falcons On Top" all come about?
Witherspoon: I have a friend, Edsel, who is the singer for a band called Dope. He had me come up to do a song for the National Hot Rod Association -- NHRA -- and it actually went down real quick. Edsel was already doing some work on a Falcons song and asked if I'd listen to it and maybe give it a shot. He was like, "We had one guy lay it down, and we want to see what you can do with it." They let me change it around a little bit, but it went down so easy being from Atlanta, A-town, being comfortable with it and making it fun. I didn't know what to expect, but I got a call month later and they really liked the song. We put some Sevendust touch on it. We had a day off on tour in Chicago, rewrote it, recorded it, mixed it all together, and the next thing you know, it's at the dome, and they haven't lost a game since.