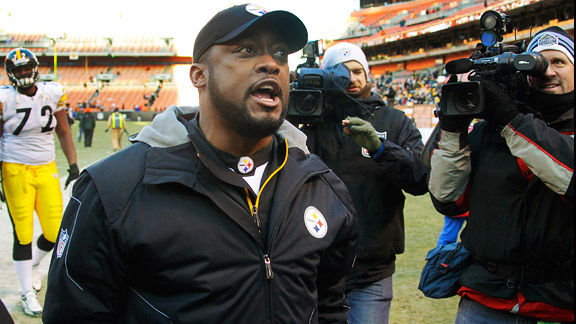 AP Photo/Mark DuncanMike Tomlin walks off the field after the Steelers' 41-9 win over the Cleveland Browns on Sunday.
Here's a quick look at some key stats from Sunday's NFL action:
• In his fourth year with Pittsburgh, head coach Mike Tomlin wrapped up his second 12-win season. It took Bill Cowher 10 seasons to accomplish the same feat.
• Next week, New Orleans will try to become the first defending Super Bowl champion to win a playoff game since the 2005 Patriots.
• Broncos rookie quarterback Tim Tebow ran for more touchdowns this year (six) than running backs Maurice Jones-Drew, Frank Gore and Ray Rice.
• Tampa Bay running back LeGarrette Blount is the second undrafted NFL player since the merger to rush for 1,000 yards in his rookie season. The other was Indianapolis' Dominic Rhodes in 2001.
• New England's Bill Belichick is the first head coach in NFL history to record four seasons of at least 14 wins.
• Denver wideout Brandon Lloyd finished his resurgent year with more receiving touchdowns (11) than the Carolina Panthers and Arizona Cardinals.
• Patriots quarterback Tom Brady tied an NFL single-season record with his 12th game featuring a passer rating above 100. He also set an NFL record for fewest interceptions in a season with four (minimum 450 attempts).