There is no Auburn versus Oregon game. No Tostitos BCS National Championship Game on Jan. 10. It's been cancelled on account of fraud. It's as phony as an Ivory Coast election.
If TCU can't play for the national championship, then nobody should play for it. Bust the crystal football this year. Until Nostradamus rises from the grave and can predict the future, we need to play this thing off. Anything else is about as real as Cheez Whiz.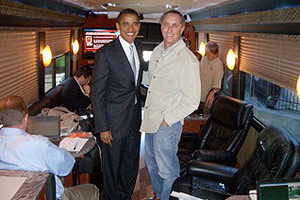 Rick ReillyRick Reilly would like President Obama to follow through on what candidate Obama told him in 2008.
TCU's 21-19 win over arguably the hottest team in college football -- Wisconsin -- Saturday in the Rose Bowl means the Horned Frogs are undefeated and untied and unwelcome in the BCS "Doesn't Prove A Damn Thing Game" in Glendale.
The Horned Frogs' perfect 13-0 season was rendered pointless by The Greedheads Who Run College Football.
Crazy, huh? TCU wins the roses and gets the thorns.
What a lie this BCS era is. They say a playoff would take too much time away from school, yet Oregon's players will have had 37 days off when they play again.
They say with this system, "every game counts." Except of course, TCU's epic win over Wisconsin to stay undefeated Saturday. Counts exactly as much as a rainbow to Stevie Wonder.
They say they don't believe in a playoff but they already have a two-team playoff. Why is a four-team playoff system any worse than a two-team system?
And what's the upside of a playoff? Besides quadrupling the money the colleges would make and quintupling fan satisfaction, I mean? And what's the downside? Oh, yeah, it would end the cash grab BCS officials wallow in now.