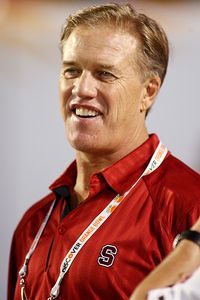 Marc Serota/Getty ImagesWill John Elway's cannon arm translate to the front office?
With Hall of Fame quarterback John Elway reportedly returning to the Denver Broncos as an executive vice president, the struggling franchise's front office will have a living, breathing link to its glorious past.
But will that ensure a winning future?
A quick, cursory Page 2 review of prominent former players-turned-team executives reveals mixed results:
Jerry West: Former Los Angeles Lakers great was even better behind a desk, masterminding the 1980s and early 2000s Lakers dynasties (seven championships total) and rebuilding the woeful Memphis Grizzlies into a playoff team.
Grade: A-plus. Draft day pilfering of Kobe Bryant from the Charlotte Hornets in 1996 alone is enough to make West a valedictorian.
Ozzie Newsome: Hall of Fame tight end-turned-Baltimore Ravens GM has made his mark as a master talent evaluator, drafting 11 Pro Bowl players -- including Ray Lewis and Jonathan Ogden -- in 13 seasons while providing stability to a franchise that won a Super Bowl in 2000 and is a perennial playoff contender.
Grade: A. Decade's worth of quarterback whiffs -- Chris Redman, Kyle Boller, Tony Banks, etc. -- are the only serious blemishes on Newsome's record.