Adam Graves had much success in his 16-year playing career.
He won Stanley Cups with the Edmonton Oilers and the New York Rangers.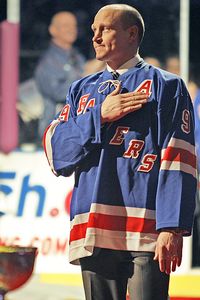 AP Photo/Kathy WillensAdam Graves, who had his number retired in 2009, is helping with a charity supporting ALS research.
He had more than 300 goals and 280 assists.
And he's had his No. 9 number retired with the Rangers in 2009.
But Thursday he's taking on a different role, helping some New York area high school students for a charity fund-raiser to support Amyotrophic Lateral Sclerosis (ALS or Lou Gehrig's Disease).
Graves, who still works for the Rangers, is one of the celebrities taking part in the seventh annual event as part of the Northport (N.Y.) High School chapter of the National Honor Society. New York Yankees player Curtis Granderson and former New York Jets player Curtis Martin are receiving "Heroes of Hope" awards for their contributions to the organization.
Graves said the students, not the actors and athletes, are the real inspirations.
"What these kids are doing has been amazing. I'm really lucky to participate," said Graves, who has taken part the past three years. "These kids aren't just a front for the organization. They are the engine."
About 25 students ages 15-17 plan the event called "Midwinter Night's Dream" at Oheka Castle in Huntington, N.Y., and have raised more than $1.5 million for ALS research and related causes. The students became active in fighting ALS after two teachers in their district were diagnosed with the disease.
"These students understand the importance of life and caring," Graves said. "They understand that, even at such a young age, you can make a difference. Nothing is more powerful than that."