From legalized zone defense to an on-court player carping crackdown, a revamped dress code to a looming collective bargaining renegotiation, the NBA seems perpetually in need of fixing. Yet if pro basketball truly wants to cure what ails it, only one prescription makes sense.
More Bourré. Or as it's better-known in the NBA by its Americanized name, Boo-Ray.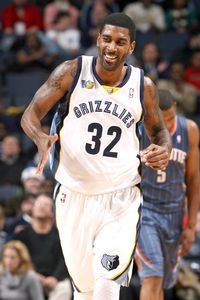 Joe Murphy/Getty ImagesO.J. Mayo wasn't smiling after an argument with a teammate over a card game.
What's Boo-Ray? A card game. The same card game that reportedly resulted in Memphis Grizzlies teammates O.J. Mayo and Tony Allen having a physical encounter -- read: fight -- on the team's Monday night charter flight.
The same card game that previously led Gilbert Arenas and Javaris Crittenton to turn the Washington Wizards' locker room into a "Black Ops" pre-match load menu.
In short, the same card game that NBA players really, really care about.
The No. 1 complaint about the league? Players don't appear to go all out. Contracts are guaranteed.
Eighty-two games are a marathon. Superstars and role players alike conserve energy during the regular season and save their maximum efforts for: (a) the last five minutes of the fourth quarter; (b) the playoffs.
The NBA: Where blasé happens.
Enter Boo-Ray. Following last year's Arenas-Crittenton incident, many teams reportedly moved to limit the game on charter flights. Talk about a wasted opportunity. Better idea? Make Boo-Ray contests mandatory before games, and hold said contests between opposing teams. (Need time? Dump morning shootaround.) Next, make collection of all resulting card debts contingent on the outcome of the game: Win, and you get paid; lose, and the other guy gets to welch.
Look, it would be nice -- sensical, even -- if NBA players were motivated to the point of exchanging blows by gargantuan salaries, professional pride, fan interest or even the hokey notion of winning as its own reward. But let's get real. What clearly stokes their fires is the chance to win relatively minor amounts of cash during a time-killing card game. Why -- no pun intended -- fight that? Why not leverage an obvious incentive to spectating advantage?
At the very least, mandatory Boo-Ray would make the All-Star Game a lot more interesting.