CLEVELAND -- The Cleveland Cavaliers have offered a job to a homeless Ohio man with a golden radio voice.
Ted Williams, whose deep baritone and plight have made him an online video sensation, was contacted Wednesday by the Cavs. Team spokesman Tad Carper said details are still being worked out on a possible position for Williams.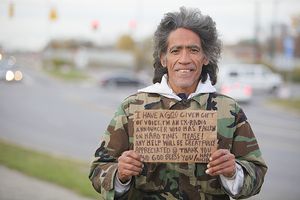 AP Photo/Columbus Dispatch/Doral Chenoweth IIITed Williams, a homeless ex-radio announcer, has been offered a job by the Cavaliers after becoming an Internet sensation.
Carper said any job could include working at Quicken Loans Arena, the NBA team's downtown arena. It is not yet known if Williams has accepted the team's offer.
Williams' compelling tale also has drawn interest from NFL Films, which has chronicled pro football for nearly 50 years and wants to contact Williams.
"It's that voice," said Kevin McLoughlin, director of post-production films for the NFL told The Associated Press. "When I heard him tell his story, I said, 'That's what we do. This guy can tell a story.' Somehow, some way, I need to get a demo with him."
"The man deserves a second chance," said McLoughlin, who has not yet been able to contact Williams.
The Columbus Dispatch reports that video of Williams posted this week on its website has commanded millions of views and drawn inquiries from numerous media entities and a talent agency.