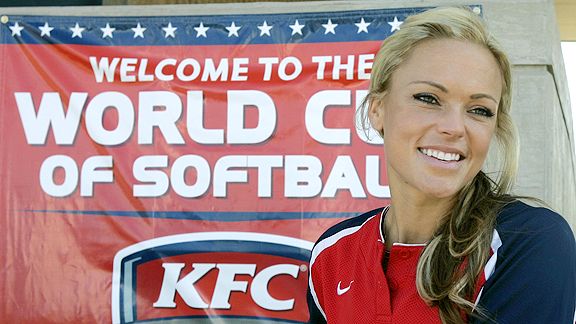 AP Photo/Sue OgrockiJennie Finch, who retired from competition last summer, has made Page 2's All-Bird Team.
Come fly with us as we present Page 2's All-Bird Team. No charge for checked baggage.
Ron "The Penguin" Cey: So named for his exceptionally short strides, Cey was paid to hit rather than run. And in a 17-year MLB career in the 1970s and 1980s, he gave himself the opportunity to jog around the bases 316 times via the long ball. As for steals, he averaged one every 86 games he played.
Kevin Duckworth: What's a duck worth? In his case, a fair amount. The 7-foot, 275-pound NBA center was a two-time All-Star who played most of his career in Portland. Like the bird, Duckworth was never a high-flying fellow, but he made the most of his skills. Duckworth played for five teams between 1996-97.
Alex Eagle: Speaking of Ducks, Eagle was one, too. He was one of the first University of Oregon guys to play in the NFL, appearing for the 1935 Brooklyn Dodgers as a 22-year-old rookie. Among his college teammates was Bill Bowerman, co-founder of Nike.
Jennie Finch: The only female athlete on People magazine's "50 Most Beautiful People" list in 2004, Finch is a two-time Olympic softball medalist whose fastballs were clocked at roughly 98 mph -- four times the normal speed of the bird and just short of the Fleet Finch II, a training biplane first made in Canada in the 1930s. That aircraft maxed out at 104 mph.
Ralph "The Roadrunner" Garr: Don't be thrown off by the nickname, which fits but does not totally define the outfielder. Garr never stole more than 35 bases in a season, but he was a .306 hitter in a 13-year big-league career. That included a remarkable 1974 season in which he hit .353 and smacked 17 triples. Only one man has equaled or exceeded those figures in the same season since.
Ted "The Mad Stork" Hendricks: The linebacker got the nickname for his apparently slender (6-7, 200) frame, which nobody could push around. In a 15-year NFL career (1969-83), Hendricks went to eight Pro Bowls and played on four Super Bowl champions. He's also one of only two natives of Guatemala to play in the league.