A new year means new hopes, new resolutions and new reasons for sports fans to feel totally old -- namely, a whole bunch of forthcoming babies who will never know the blurry joy of low-definition football broadcasts.
Or the shopping simplicity of your favorite team having only two jerseys, home and away.
Or the obsessive-compulsive agony of having to edit your own sports video game rosters, because a virtual army of file-sharing Internet nerds isn't out there making sure Kobe Bryant's shoes are the right color.
What other athletic things will people born in 2011 never know of? Page 2 presents an incomplete list: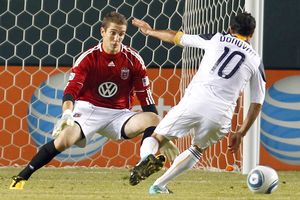 AP Photo/Lori SheplerThose born in 2011 will never know of soccer's dark history as a niche sport.
• Being unable to watch or follow a game because you're at a wedding or church or something;
• Having more than one licensed sports video game per sport to choose from;
• Thinking it's tough and manly to shake off a concussion and get back out there right away;
• Being kind of dorky and out of touch because you play fantasy sports, and not the other way around;
• Relying on network instant replay instead of just using your own DVR;
• Presumed steroid innocence;
• Blissfully having no idea what your favorite athlete looks like sans underpants;
• Soccer as an exotic, niche, vaguely un-American sport;
• Believing that clutch hitting is, in fact, real;
• Cornrows and teal;
• College sports amateurism, not a complete and obvious sham;
• USA basketball as a gold medal sure thing;
• The BCS (let's hope).