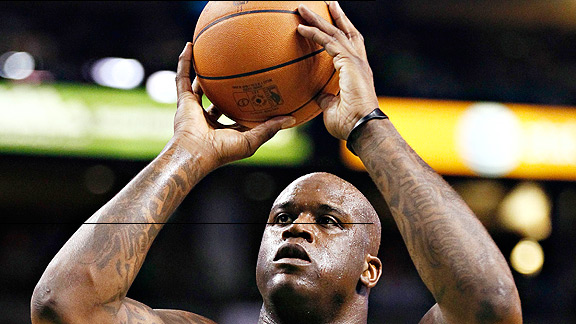 AP Photo/Winslow Townson
Boston's Shaquille O'Neal wears a Power Balance bracelet. Australian authorities said the company behind the popular wristbands don't work. And they even got Power Balance to admit it.
The year of 2011 is new enough that we have not abandoned our hopes of living a healthier life. Disillusionment and eclairs usually don't hit until February. Perhaps that's why the NBA quickly offered its "Fit Live Healthy Week," as players, coaches and even league executives in carefully fitted suits were seen promoting healthy living.
Yeah, well, I'll buy into your sincerity, NBA, when you stop selling size XXX Kobe jerseys.
And speaking of disillusionment, did you hear that the Power Balance "athletic strength bands" have been exposed as not actually doing anything that improves "strength, balance and flexibility" as promotions have alleged?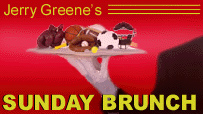 The exposure came in Australia and customers "down under" are being offered refunds for the wrist bands that usually sell for $29 up here. Shaquille O'Neal has been seen wearing one, perhaps in pursuit of lost flexibility. So has, uh, New Orleans quarterback Drew Brees.
How'd that work out on Saturday, Drew? You should have given one to everyone on your defense and two to Roman Harper. Can you say "horrific," Roman?
Still, I'm not willing to abandon the Power Balance concept of wearing something that will make me healthy without exercise and a proper diet. In fact, instead of the wrist bands, I plan on ordering the special "athletic strength belt," size 52.
And now a few assorted thoughts before we get to a deliciously large buffet on this Sunday Brunch.