New York City's Grand Central Terminal isn't typically where you'd expect to see a boxing ring, a sparing match and catch a glimpse of world champion legends, but when Hollywood's involved, you can anticipate the works.
The spectacle was for "Lights Out", a new Tuesday FX drama from executive producer Warren Leight (formerly of Law & Order: Criminal Intent) about an aging former heavyweight boxing champion struggling with finances and identity after retirement.
The story is of particular curiosity for some of the former world champions who came out for the celebration including Lennox Lewis, Micky Ward and Gerry Cooney. But all eyes were on heavyweight champion Wladimir Klitschko, who's had his own taste of Hollywood, in the form of girlfriend, actress Hayden Panettiere. Klitschko currently holds Ring, WBO, IBF, IBO titles, and is eying one more: David Haye's WBA belt.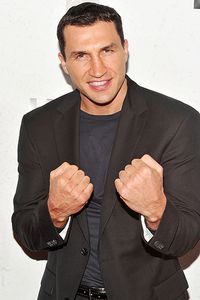 Stephen Lovekin/Getty ImagesWladimir Klitschko attends the premiere of 'Lights Out', a new show on FX starting Tuesday.
Here's what Klitschko had to say about Hollywood, Hayden and conquering Haye.
(Writers note: Imagine these answers in a charming Ukrainian, Russian and German accent)
What affect will this new boxing drama have on the popularity of the sport?
I think we have tremendous media covering the sport of boxing even if boxing is a little bit lost in popularity with MMA sports. And I think that with the show Lights Out it's going to get more attention to the sport and it's going to put more attention to the problems that athletes in general have. I think it's great and interesting because drama is important and in this show you have certain drama and controversy and I think people are going to be really excited to watch.
What would it take to get you to make a cameo on the show?
Me on the show? You know what, I'm playing right now a role and the role is called the Heavyweight Champion of the World. And it takes all of the time. And I love this role and it takes a lot of attention for me for the sport and I just don't want to lose the title so that's why I have to stay focused and not become an actor.
Does being a world champion add more pressure to keep the title or does it take some off because you've accomplished so much?
There is one last title left and that's the WBA title that David Haye is holding right now and I hope that this year we're going to make this fight and eventually all of the titles the Klitschko brothers going to have at once.
You're going to take over the world. Is there anything Hayden can beat you at?
She definitely can beat me at a lot of things, especially with her perfect English. We'll begin with that (laugh).
Any games?
She's actually a good golfer. She has a great swing and she's not confident enough to improve herself but I'm going to work on it. Her swing is there. She's been practicing as a child and I think on the golf course I'm getting a lot of challenge.
She's become quite a boxing fan.
She is. She's a great fan, great supporter, a great motivator. Actually, I beat up guys for her, believe it or not.
I believe it.