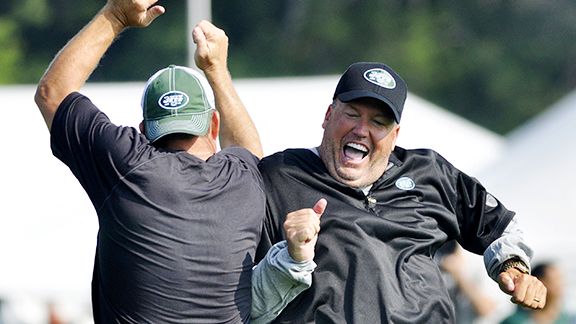 AP Photo/Kevin RivoliGive us your best caption for this Rex Ryan, uh, celebration with assistant Jeff Weeks.
In the Pro's Questionnaire, our favorite sports figures take our abridged version of the most famous personality test, the Proust Questionnaire. Last week Jane McManus caught up with Mr. Personality himself, Jets coach Rex Ryan.
Your idea of happiness:
Rex Ryan: Happiness in the short term would be winning the Super Bowl, but it would be to do something you love, have a great family, provide for your family and be happy being you.
Your idea of misery:
RR: That's easy, losing to Peyton Manning again would be misery. But without your health you have nothing. You can have all the money in the world but without your health it's misery.
If not yourself, who would you want to be:
RR: It's funny but I'm happy being me. But maybe Seth, my youngest son. I just want to be young and go through it again.
Your favorite food/drink:
RR: Mexican food and any kind of beer.
Hero/Heroine you admire most:
RR: My biggest hero growing up, Babe Ruth is the guy. My parents, that's too easy to say, I guess that's who your hero is. My grandmother, who took care of me, was a huge hero for me.
What you hate most:
RR: Doubters.