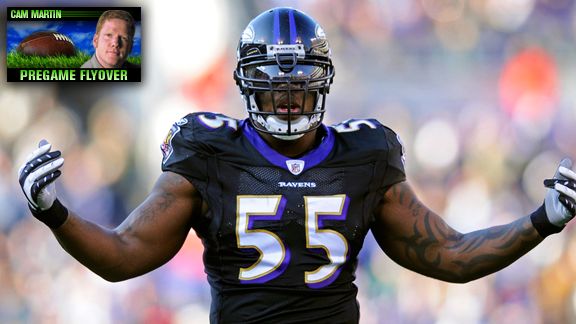 AP PhotoTerrell Suggs says the Ravens-Steelers game will be "Armageddon."
This is your Pregame Flyover of the divisional round of the NFL playoffs, when the four top seeds return to action following their bye weeks and fans are treated to the best football weekend of the season. It doesn't matter that the Jets versus Patriots is a tame verbal rivalry with all the on-the-field history of Bills versus Dolphins; the winner gets to play in the AFC Championship Game. And it doesn't matter that Atlanta fans won't have the option to root for Michael Vick this weekend; watching Aaron Rodgers and the Packers' offense still guarantees that one half of the game won't be plodding and predictable. Now before we get to this week's matchups, let's time a moment to remember that...
Meaningful football has ended in three NFL divisions
Eight teams remain standing in the NFL playoffs, including two teams each from the AFC North, AFC East and NFC North, and one team each from the NFC West and NFC South. The season has ended for teams from the NFC East, AFC South and AFC West, three divisions that have combined to win two Super Bowls since John Elway retired. If it weren't for the Mannings -- Peyton with the Colts in 2006 and Eli with the Giants in 2007 -- this triumvirate of divisions would be without a Super Bowl title in the post-Elway era. But, hey, at least their division champions always take a winning record into the postseason, right? That's what's important. Meanwhile, the AFC West needs to get itself a Manning. They had one (Eli), but the Chargers traded him for this gent.