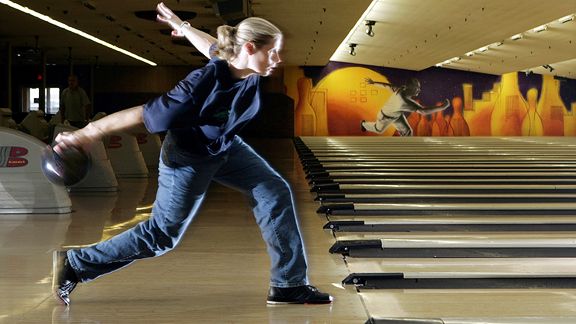 AP Photo/Mel EvansKelly Kulick is back in Las Vegas to compete against the men in the Tournament of Champions.
It doesn't matter whether Kelly Kulick has a bowling ball or a sauté pan in front of her, she's going to be competitive.
Naturally, considering that she's a champion bowler, she'd rather have the former in her hands -- her track record is too good on the lanes. (But she's not a bad cook, and she'd probably kick butt in a competition there too, she surmises with a laugh.)
This time last year, Kulick became the first female to beat the men in the PBA Tournament of Champions. This weekend, she'll defend her title. Her bid begins on Sunday at the Red Rock Lanes on Las Vegas for the $1 million Tournament of Champions challenge. From there, they bowl everyday through the final until next Saturday. The finals air live on ABC at 2:30 p.m. on Jan. 22.
Last year's win was significant. She went in virtually unnoticed -- save for her gender -- and came out the surprising victor.
"You know, honestly, when I first went into the event, I was the only woman there, and I felt like I didn't belong there. It was really a strange feeling and as the week went on. I think I just took that feeling and turned it internally and ran with it," she said. "My attitude was 'nothing to lose, just to go in and have fun.' Next thing you know, I'm dominating the field."
This year, Kulick is the one to watch.
"Before," she says with a slight giggle, "they used to pay attention to my curves. Now they watch where I'm playing on the lane. Anybody can be a threat in this sport because the pins don't recognize gender. Anybody can have a given day where they excel and just be on top of it, and I think that's what happened with me. It wasn't a luck factor by any means, I just matched up really well, it happened to be the tournament … where the stars were aligned, the clouds dissipated, and everything was in line for me to win that event. They see me as a serious competitor now."