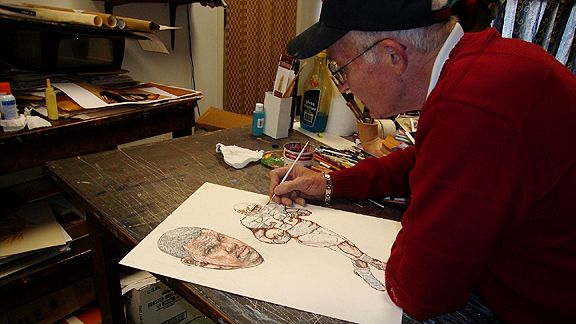 Daniel PaullingBehind schedule, Ted Watts works on Alabama's Mark Ingram. Then Sam Bradford and Cam Newton.
OSWEGO, Kan. -- Ted Watts swirls his brush on a palette, soaking a light brown paint, and colors an arm. He works off photos to choose the right effects until he's captured every detail -- the wrinkle of a jersey, shading underneath a shoulder pad, the expression on the athlete's face.
He's behind schedule. Heisman Trophy winner Mark Ingram (2009) is still taking shape under his brush. Sam Bradford, who won in 2008, isn't finished and 2010 winner Cam Newton is at least three months away.
Watts, 68, is the artist behind the collection of Heisman winner paintings at the College Football Hall of Fame. He lives in tiny Oswego, Kan. -- whose population would fit 50 times into Alabama's Bryant-Denny Stadium -- and creates his masterpieces in a single-story studio in what passes for downtown.
Watts is anything but small-town. He's painted for the USOC, 26 pro teams and 150 colleges. He's a sports nut, and though his favorite team is his alma mater -- the Pittsburg (Kan.) State Gorillas, he'll root for just about anybody.
"It's, 'Do you dream of this stuff when you're a kid?" he said. "I did. But I actually get to do it. I think probably that's what keeps me young."
Watts works by hand, an anachronism in this age of digital photography. He worries about the future of his craft. He's a dying breed, and has had the opportunity to teach 60 students at a nearby community college all that he's learned.
"You can make the sign of the cross and kneel down by the side of the bed and say, 'Jesus, I hope there's one,'" Watts says of future sports artists. "And there probably will be. If not, I'll come back from the grave and kick their butts."
Watts started in sports painting by doing media-guide covers for small colleges. Steve Owens, a former high school classmate and the 1969 Heisman winner, gave him the idea to paint the collection of Heisman winners.
He approached the Downtown Athletic Club, but was rebuffed. So he turned to the College Football Hall of Fame. Watts unveiled the first 61 Heisman winners in 1996. He donates the paintings, each of which take about three months.
"One thing about Ted," says Kent Stephens, curator for the College Football Hall of Fame, "when you get him on the phone, it's impossible to get him off. Extremely friendly, outgoing and personable person. You have to be appreciative of the asset he has given us."