The man who is the lead play-by play announcer for Fox Sports tells his kids never to Google his name. He knows he's got his detractors.
When Joe Buck calls the NFC Championship Game on Sunday in Chicago, at some point the crowd is going to go nuts, at some point there will be a play that will be remembered forever. But don't count on Buck stealing the moment from the athletes on the field.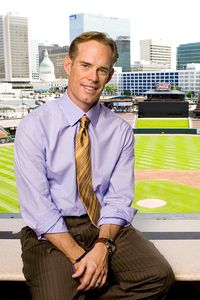 Dilip Vishwanat/Getty ImagesJoe Buck says he'd prefer the game be remembered for the players, not him.
"One of the criticisms I read a lot about me is I'm monotone, or it sounds like I don't care, and that's just because I'm not a screamer," Buck said. "I feel like if I get hit by a bus going into the game on Sunday they are still going to play, and they will get someone else to do the game and the audience will not be affected one way or another that I'm not in the booth. So, if I'm going to act then like everyone is dying to hear what I have to say with the crowd going nuts, then I think I'm putting too much importance on what I do."
While he is in the booth, he's calling some of the biggest moments in sports. But he says he's there to set them up and move out of the way, making the memories about the players, not himself.
"I'm more into what is happening on the field than to hearing myself talk," Buck said. He instead wants to be remembered as someone who just has fun during a broadcast and never minds being the butt of the joke.
Despite being the son of legendary St. Louis Cardinals broadcaster Jack Buck, and being in the business himself for 20 years, Joe Buck says it can still be an intimidating job.
"Whatever I say is on somebody's television at home. You stop to think of it that way, it can be a little intimidating," Buck said, remembering sitting beside his father and practicing. "But I just do what I've been doing since I was 13, into a tape recorder at Busch Stadium."
And he still gets excited about his job.
"This Sunday, I'm doing the Packers and the Bears in Chicago for the right to go to the Super Bowl. People would kill to see that thing live, let alone have a microphone in front of their mouth."