CORAL GABLES, Fla. -- First, in order to be able to host a lavish charity fundraiser at your home you need one big enough to accommodate all of the guests -- and the media.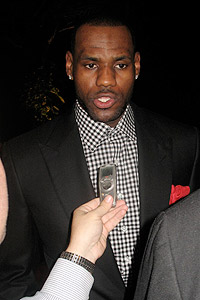 Courtesy of David BergsteinLeBron James attends the Miami Heat Charitable Fund's gala at team president Pat Riley's house.
Check.
Second, you better have a few big names attached to the invitation, and a proven track record of success wouldn't hurt either.
Check and check.
Thursday night's gala benefiting the Miami Heat Charitable Fund held at the waterfront estate of Pat and Chris Riley brought out the stars for a good cause. Of course, for high-profile members of the Heat like LeBron James, Dwyane Wade and Chris Bosh, when the boss asks you to his home to support a function, there really is no alternative answer to "yes, sir."
"If they don't come, then we set them out on the barge with the fireworks tonight. That's what happens," Riley joked.
But the Hall-of-Fame former coach of the Heat and the Los Angeles Lakers and current Heat team president commands that kind of respect. As he and his wife of 40 years, Chris, greeted each guest on the red carpet leading to the entrance to their mansion, that level of respect was clearly evident.