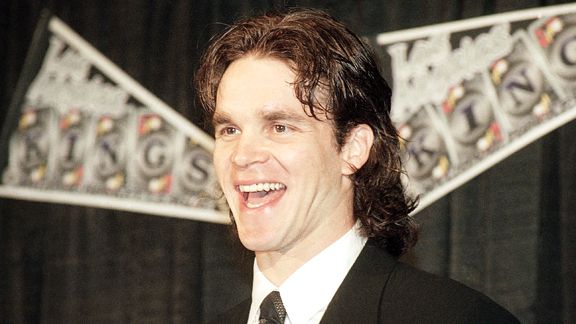 AP Photo/Rene MacuraLegendary hockey star Luc Robitaille is hosting a celebrity hockey match at Sundance this weekend.
Doesn't matter how famous you are: You can't just suit up and get on the ice rink and play a competitive game of hockey.
Now there are a few famous faces that could double for star hockey players, and if you're lucky enough to be attending the Sundance Film Festival this weekend, you can get a sneak peak at what some of your favorite stars look like in a goalie mask.
On Sunday, retired pro hockey player Luc Robitaille will host his fourth annual Celebrity Shoot Out in Park City, Utah, and the event benefits he and his wife Stacia's "Echoes of Hope" charity, which they established to help victims of Hurricane Katrina. This year's player include Robitaille, Joe Sakic, Rob Blake, Derek Armstrong, Ian Laperriere, Marty McSorley, Glen Murray and Mathieu Schneider, and celebrity players include Michael Vartan, Alan Thicke, Andie MacDowell and Treat Williams.
Robitaille says the celebs who are playing in the game aren't newbies to the ice; in fact, he says, they're incredible hockey players.
"The celebrities that play hockey with us, a lot of them have been playing for a while. There's a few exceptions, like Cuba Gooding Jr., who started to play when he was older, like in the early '90s, but good for him. He practiced all the time. He fell in love with the game and he's turned out to be a pretty darn good player," Robitaille said. "Michael Vartan, who's coming, he's a good skater. He's one of those guys committed who plays two, three times a week. He's become real good."
And naturally, boasts Montreal-born Robitaille, Canadian celebrities usually are the rock stars on the ice rink. He expects that, but even still, he was recently blown away by a sharp talent.
"Taylor Kitsch," he says of the Canadian actor and model who currently stars as football player Tim Riggins in "Friday Night Lights," "I mean, wow. He asked us to come to our game one time, and we're like 'yeah, you can come; it'd be fun.' But when he got on the ice, he was close to college level. You know? He's a good player."
Tickets for the event can be purchased here.