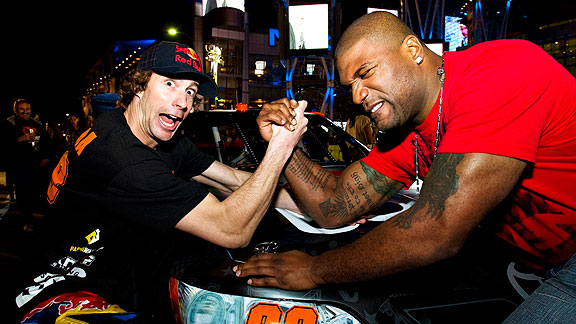 Chris PalmerWithout a set of wheels under him, Travis was smart not to take on Rampage Jackson.
Travis Pastrana was in the middle of a pulsating frenzy. Adrenaline flowed, hearts thumped. The crowd was pure energy. But there wasn't a freestyle course or rally car track for miles.
The 12-time X Games gold medalist was at Drai's, a club atop the shimmering W Hotel in Hollywood celebrating the announcement of his foray into NASCAR several hours earlier.
"Hey, does anyone have a camera?" asked Pastrana excitedly.
A camera is quickly produced.
"Good, I'm gonna go rip the shirt off of Rampage Jackson and I want to get it on tape."
This is the mind of Pastrana. Push the envelope for the thrill. Even if the envelope is 215 pounds and can snap you in half.
Dressed in a plaid shirt and Red Bull cap Pastrana paced back and forth on a walkway just off the crowded dance floor as his new bud former UFC champion Jackson cut the proverbial rug to Far East Movement's "Like A G6".
But then something very un-Pastrana like happened.
The 27-year-old seemed apprehensive, like backing off the throttle moments before hitting the ramp. He paced a bit more.
"You know what?" he said worriedly, "Now's not the right time. Let me regroup. I gotta think about this."
With that, Pastrana disappeared into a gaggle of buddies and well wishers that included fellow gold medalists, skater Ryan Sheckler and freestyle motocrosser Nate Adams.
Maybe for the first time ever TP chose not to pull out the stops for an insane, white knuckle, potentially life ending moment.
When he pulls out of pit road for the first time he'll need to quell his impulsive, Nitro Circus urges and swap his dire need for the dramatic for sound decision making. There are no look-at-me opportunities on the oval and Travis will need to shift from a mindset that thrived on instant gratification to a more pragmatic approach because the stakes and circumstances have changed. Apparently, it's already happening.
Maybe you can take the Nitro Circus out of the kid after all. But, boy, the old Travis will surely be missed.