Oscar loves him a boxing movie. "Rocky" and "Million Dollar Baby" won Best Picture. "Raging Bull" got eight nominations, including one for the top prize. Now "The Fighter" is the latest to enter the ring (sorry), as the Mark Wahlberg-starring, David O. Russell-helmed flick -- about real-life boxer "Irish" Micky Ward and his wayward half-brother Dicky Eklund -- has become a contender (sorry again) after snagging seven Academy Award nominations Tuesday morning.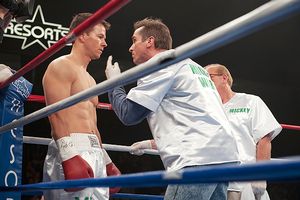 JoJo Whilden Mark Wahlberg plays Micky Ward and Christian Bale plays Dickie Eklund in 'The Fighter.'
In addition to Best Picture, with Wahlberg among the nominated producers, Russell (Director), Christian Bale (Supporting Actor) and Amy Adams and Melissa Leo (Supporting Actress) had their names called, as did the film's screenwriters and editor.
But that's not the only way Oscar showed sports some love. Fellow Best Picture nominee "127 Hours" tells the famously inspirational survival story of all-around outdoors enthusiast Aron Ralston, who bikes and hikes through Utah until he gets into some serious trouble. The man who plays Ralston -- 2011 Oscars co-host James Franco -- also found himself nominated, in the Best Actor category.
Meanwhile, Mayne Event Midseason Award nominee Kenny Powers might not be headed for Oscar, but the guy who plays his brother on "Eastbound & Down" could be: That would be John Hawkes, whose chilling turn in "Winter's Bone" landed him a Supporting Actor bid.
"The King's Speech" -- which led the way with 12 nominations, and alongside "The Social Network" is considered a Best Picture front-runner -- isn't itself a sports movie, but its opening scene takes place at London's Wembley Stadium (although no, Prince Albert was not offering color commentary for the FA Cup Final). And don't forget star/Best Actor nominee Colin Firth's lead role in the soccer-themed "Fever Pitch" (which, of course, led to the Jimmy Fallon/Red Sox remake of the same name).
And finally, consider this: "Black Swan," which itself garnered five nominations including Best Picture, is seen as a ballet film. But -- as recently argued by Julia Turner on Slate's Culture Gabfest podcast -- it might just be a sports movie, too. After all, there's competition, rivalry, discipline, training montages and a third-act climax in which our hero must perform at her best when the stakes are the highest.
Who says sports movies don't succeed like their heroes?
Champions will be crowned at Los Angeles' Kodak Theatre on Sunday, Feb. 27.