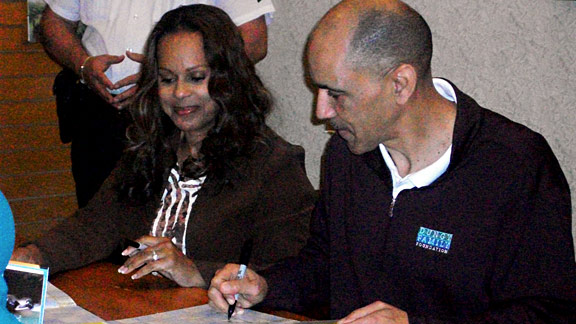 Joel PoileyTony Dungy hopes to motivate the next generation to follow their dreams.
Of all the playbooks Tony Dungy has read in his life, you might not guess that it was the books by Dr. Seuss that offered him game plans for life off the field.
And why not?
"I know it is wet, and the sun is not sunny. But we can have lots of good fun that is funny."
It was this kind of writing -- and the creativity that powered Dr. Seuss' books that inspired Dungy's joy of reading as a boy in Jackson, Mich.
Dungy and his wife, Lauren, have created a series of inspirational books for children ages 6 to 8. The pair just wrapped up a book tour that swung through New York, New Jersey, Tampa and the Midwest.
At a recent book signing to promote the second book in the series, "You Can be a Friend," the Dungys encountered plenty of positive re-enforcement for their first offering, "You Can do It," which details the story of Dungy and his younger brother Linden.
The idea to write children's books started while Dungy was coaching in Indianapolis and he and Lauren noticed the low graduation rate in schools.
"Lauren's always read to preschoolers and elementary school students, and she was looking for material that was fun and interesting and also had a message," Dungy said.
Dungy said the message in their latest book is about developing friendships and looking out for others above yourself. The first book was straight from Dungy's childhood and how younger brother Linden dealt with growing up in Tony's shadow.
"We were three years apart, and I was a good athlete and everyone expected him to follow the same path," Dungy said. "The book is about following your own path and dreams."
Linden eventually became a dentist.
The Dungys have a deal with Simon and Schuster to write six more books dealing with kids working through issues and parents helping them out.
"We wanted to write something that would encourage that type of dialogue between parents and children," Dungy said. "And also talk about the values like faith and family that are important to us."