Does the New York Yankees' brain trust actually style itself as a group of self-made, John Galt-shaming money-making geniuses who really ought to be teaching courses at the London Business School, if not for the special, special talent it takes to outbid nonexistent suitors by about $60 million for aging slugger Alex Rodriguez?
Just askin'.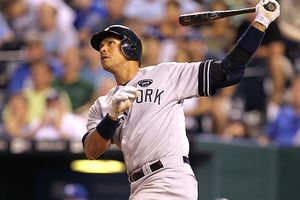 Jamie Squire/Getty ImagesAlex Rodriguez: One of the Yankees' great "finds."
Actually, scratch that: I'm not just asking. I'm asking because of Yankees president Randy Levine's assertion that he'll be impressed with Texas Rangers owner Chuck Greenberg when he "demonstrates he can keep the Rangers off welfare" -- that is, keep the Rangers from being a revenue-sharing recipient that also takes financing from baseball and "advance money" from television networks.
Um, hello?
This is not about the Rangers' skill and/or ability to generate revenue. This is about the Yankees' colossal arrogance and complete lack of self-awareness when it comes to the same. Seriously, who is Levine to call out anyone when it comes to "welfare?"
I could make a killing running the Yankees. You could make a killing running the Yankees. Anyone with a pulse and a checking account could make a killing running the Yankees. It's really not complicated: They have the good fortune of playing in the country's biggest television market, a market they did nothing to create, yet profit handsomely from, both in terms of revenue and franchise value. To wit: According to Forbes Magazine, the Yankees earned $441 million in revenue in 2009. The No. 2 franchise? The New York Mets.