In politics, it can be tough to get both sides of the aisle to agree to anything.
But if there is anything that unites people in Wisconsin, it's the Packers, who are headed to Sunday's Super Bowl XLV.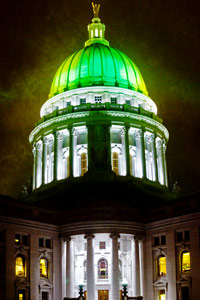 Amanda BriggsWisconsin's capitol dome will be lit green and gold this week.
Last week, when Wisconsin Gov. Scott Walker asked that the capitol building in Madison be lit in Packers green and gold, members of the State Capitol and Executive Residence Board Committee took a quick vote. And -- political allegiances be darned -- they voted to honor the governor's wishes.
"While there are always going to be policy and political differences at the capitol, we can all agree that we want the Packers to bring the Lombardi Trophy home to Wisconsin," Walker said.
While the lighting of a public building in honor of a sports team isn't unusual -- in early January the Empire State Building was lit with green lights in honor of the Jets getting to the AFC Championship Game -- needing a vote to approve the action is.
Turns out, Walker isn't the first person in Wisconsin to ask for new colors.
In 1965, Dorothy Knowles, the wife of then-Gov. Warren Knowles, wanted to redecorate parts of Wisconsin's capitol building. But some state legislators weren't enthusiastic about her plans.
"No one had the guts to go after her, so we appointed a committee to review things like that," said Sen. Fred Risser, a Madison Democrat who has served in the Wisconsin Legislature since 1962. Risser, 83, is the second-longest-serving state legislator in United States history.
Risser also is chairman of the State Capitol and Executive Residence Board, the committee that formed to oversee facility issues. The panel, Risser said, agreed to override a current moratorium on capitol dome lighting to honor the Packers.
"The governor's office asked that we suspend that for the purpose of the Packers, and we polled the committee and did that," Risser said.