FORT WORTH, Texas -- Just in case I didn't know it already, another reminder this is the land of football arrived when I was awoken by a college marching band playing outside the hotel at 4 a.m. And again at 4:30. And 5. And 5:30. And 6.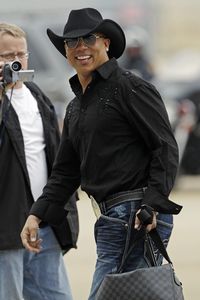 AP Photo/David J. PhillipSteelers wide receiver Hines Ward reveals his inner Texan on Monday.
I assumed the band was playing for one of the many TV stations that have set up shop around here for Super Bowl week, but I could not imagine what time zone would possibly want a live broadcast at this hour. I mean, just how many Steelers fans could possibly live in Zagreb, Croatia? (Answer: Probably more than there are Pirates fans.) I was later told it was the TCU marching band rehearsing for an appearance on "Mike and Mike," which is broadcasting down the block from my room. Thanks, guys!
ESPN has basically taken over downtown Fort Worth, setting up booths and stages in Sundance Square for broadcasts. This is big enough news that it was the featured story in this morning's Fort Worth Star-Telegram. The other major story on the front page was that the 115th annual Fort Worth Stock Show and Rodeo set attendance records over the weekend. As for that little affair in Egypt? That was pushed back to Page A12.
Well, that's the way things are when your community hosts Super Bowl week, that annual seven-day bacchanalia of media hype and excess. For instance, TMZ reported that area "gentlemen's clubs" need 10,000 more strippers to meet the demand. Not just 10,000 strippers -- 10,000 more strippers than usual. Ten thousand! This is a staggering figure, given that there are supposedly only 60 or so strip clubs in the area. That means each one will hire roughly 160 extra strippers! Really? Is there possibly that much demand? Sure, there are a lot of sportswriters here, but are strip joints the only places fans go during Super Bowl week? I mean, what about the Stock Show?