Danny Woodhead has a cult following, has sold his own New England Patriots jerseys in anonymity and has seen his share of hard knocks.
But now he finally has an NFL rookie card.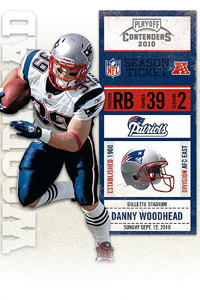 Panini America Danny Woodhead is finally getting his own trading card.
The 5-foot-7 running back from Chadron State has been in the NFL since 2008 but it took his eye-catching play for the Patriots this season -- he scored six touchdowns -- for Panini America to put him on a card.
Woodhead will be found in packs of 2010 Playoff Contenders, which will arrive in stores this month. It's his first football card showing him in an NFL uniform to be found in packs, making it his rookie card.
"We were captivated by Woodhead's buzz-generating performances," said Jason Howarth, Panini America's Vice President of Marketing. "We decided early in the season that he was a must-have inclusion in one of our late-season products."
It can't come soon enough for many collectors as Woodhead's only other card appearances came in 2008 from SAGE. Those cards were in draft picks sets, so Woodhead is seen wearing his Chadron State gear there. An autographed Woodhead from that set has skyrocketed from anonymity to $50-and-up status as collectors didn't have any other options to chase this season.
So why the wait? Card sets are pretty small these days -- sometimes just a handful of stars from each team make the cut -- so Woodhead earned his way into the lineup.
Ironically, though, you won't be seeing autographs from Woodhead -- at least not yet -- as his agent said that the two NFL card licensees -- Panini and Topps -- haven't come calling.
"Oddly enough, there wasn't a whole lot of interest the last time I approached [the card companies]," said Chris Gittings, Woodhead's agent based in Helena, Mont. "I do plan on reaching out to both companies again. It's hard for me to believe that they wouldn't have any interest in Danny."