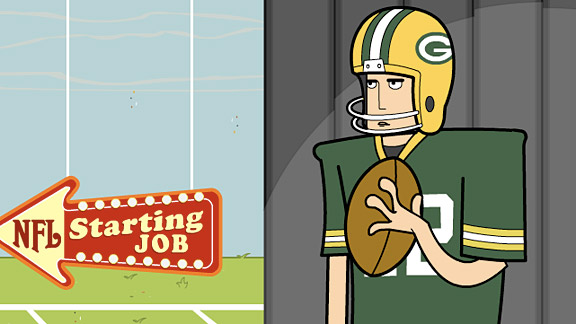 Todd Gallina for ESPN.com
Aaron Rodgers is a Super Bowl quarterback, but he didn't have NFL success handed to him.
He didn't have the starting quarterback job of the Packers handed to him without years of struggle.
Page 2 revisits its 2008 animation documenting the journey Rodgers faced after being drafted out of Cal three years earlier. Utah quarterback Alex Smith and Arkansas quarterback Matt Jones (!) were selected before him in the 2005 draft. Then he backed up Brett Favre for three seasons -- only to have the aging gunslinger come out of retirement and try to reclaim the starting gig during training camp in 2008.
Did we mention that the Packers drafted two other quarterbacks in 2008 -- highly touted Brian Brohm of Louisville and Matt Flynn, who was fresh off helping LSU win a national championship?
• Click here to watch Page 2's animated salute to the perseverance of Aaron Rodgers