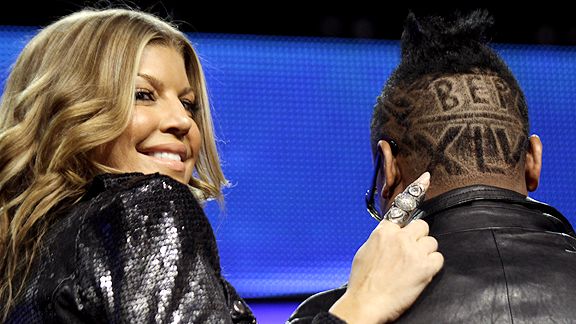 AP Photo/David J. PhillipI got a feeling ... that Will.i.am is headed straight to the barber come Monday morning.
DALLAS -- The Black Eyed Peas performed in the pre-game concert at Super Bowl XXXIX in Jacksonville. They performed at the season kickoff in Pittsburgh last year. They are performing during the halftime show Sunday. If this rate of progression continues, the next time they're at the Super Bowl, they'll be wearing helmets, playing in the game as part of a 4-6 defensive formation and then dumping Gatorade on their coach.
Or maybe not.
"Being here in Dallas, playing the Super Bowl halftime show, it seems so surreal," Will.i.am said during a press conference Thursday afternoon. "I remember as a kid watching half time shows, watching Super Bowls. My uncle (Lynn Cain) used to play for the Atlanta Falcons and I used to dream of and want to play football until I got a concussion. And then I didn't want to play football no more."
OK, so maybe playing in the game is out, though I still like the Peas odds better than say, 69-year-old Paul McCartney. But ownership is not. Fergie is a limited partner in the Miami Dolphins ownership, and will thus become the first NFL owner to perform at the Super Bowl, beating Al Davis and his long-proposed version of "My Way" for that honor.
"We do a lot of sports anthem type songs and we all like to party and have a good time," Fergie said. "My father was a high school and college quarterback, a former football coach. I now am a limited owner of the Dolphins. I'm very proud of my team for years and years. This is a very special thing for all of us. We're talking about a semi-official holiday for Americans. It really is. Sunday football is a serious day in our homes and Super Bowl Sunday is the day I can go all out, cheat, eat a seven-layer dip and all the fattening foods, scream at everybody and just have a great time. It's a perfect match for us."
Fergie said the group could not reveal its set list but she did promise that, as the first female performer since Janet Jackson scandalized Americans -- "OMG! A half-second blurry glimpse of a nipple! Send in troops!''-- she promised there would be no wardrobe malfunctions. Which kind of defeats the advances we've made in Hi-Def and screen sizes, doesn't it?
Unlike past recent performers such as Bruce Springsteen, the Rolling Stones and The Who, the Black Eyed Peas are not old enough to remember when a rousing "Up With People" routine was considered a cutting edge halftime show. Their music is also frequently heard at stadiums and arenas even when they aren't performing in person. You hear "I Gotta Feeling"and "Let's Get It Started" at stadiums more often than "The Star-Spangled Banner."
"Some people write songs for radio playlists, some people write songs for clubs, we like to write songs for life," Will.i.am said. "Moments of celebration or sorrow or whatever it is, we provide that soundtrack to your life. We take pride in going to basketball games and football games, and hearing in moments of triumph, 'Let's Get It Started,' or 'I Gotta Feeling' or 'Pump it' or 'Boom Boom Pow.' That's something we're really proud of."
Will.i.am said that part of the process of being chosen as the halftime act was going to the NFL offices and performing in front of league executives. We can only imagine how wild that audition got.
"Yes, well, that was very . . . 'interesting,' Mr. Sam I Am. But we were wondering if you could perhaps read from your celebrated song, 'Green Eggs and Ham.'"