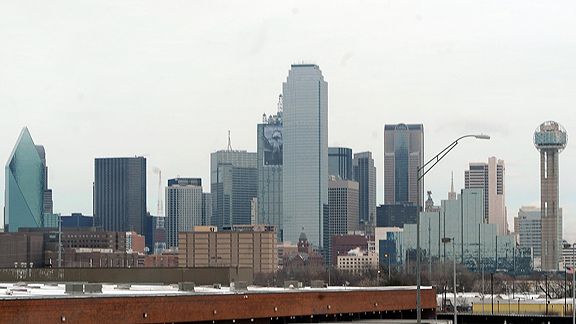 Kirby Lee/Image of Sport/US PresswireHere's a photo of the Dallas skyline. Strangely, the city hasn't named a freeway for Gary Hogeboom.
DALLAS -- Need directions to the Super Bowl? That's easy. Whether you're driving to Arlington from Fort Worth or Dallas, you simply get on the Tom Landry Highway and take the Nolan Ryan exit to Nolan Ryan expressway (which, alas, has a top speed limit of 40 mph). Then you just turn right at Randall Mill, which, I believe, is either named after an old mill in Arlington or a Cowboys replacement player from the 1987 strike.
I say that because they really like naming roads after athletes here. I endorse this strategy because it makes directions easier to remember. Every community should do more of that. You could also correct the mortgage crisis and immediately drive up your neighborhood's real estate prices 10 percent simply by changing your street name from NE 114th Street to Peyton Manning Place, Albert Pujols Drive, Kevin Durant Court or the like.
Anyway, the Tom Landry Highway is the major freeway between Dallas and Arlington, and the signs along that 30-mile or so stretch can be interesting and instructive. For instance:
• The highway signs features a silhouette of Landry's famous hat, though unfortunately the Nolan Ryan street signs do not include a drawing of a fastball shattering a batter's helmet.
• At one point, there is a billboard for a weight loss plan featuring Nate Newton. The former Cowboys lineman is infamous for being arrested while transporting 388 pounds of marijuana in his van, an amount that nearly matched his own colossal weight. Based on the billboard photo, though, Newton has lost nearly half his body weight. Amazing how many calories you can cut when you no longer get the munchies.
• Heading east from Fort Worth to Dallas, there are several billboards for the Green Bay Packers. Heading west from Dallas to Fort Worth, there are several billboards for the Pittsburgh Steelers. As my editor, Kevin, noted, this is puzzling. Lord knows the NFL has money to spend but what is the point of these billboards? Are they trying to turn Cowboys fans into Packers and Steelers fans? Do they think fans won't know who's playing otherwise? Or is the league just trying to avoid another billboard of Nate Newton?
• On Monday afternoon, we had to pull over to the far left lane due to three fire trucks putting out a fire on the side of the highway. In the days since then, we've been edging along the ice-coated freeway. You have to love a place that has wild fires and ice storms on consecutive days.
• There also is a billboard for a gun club and shooting range. I do not see billboards like that while driving around liberal Seattle, where we get nervous when dining in vegan restaurants that use metal butter knives with our hummus. Nor do I see storefronts in Seattle that advertise: "Kickboxing, Weapons," which I saw in Dallas after we pulled off the highway exit ramp.
• The average price for gas seems to be around $2.95. This is 22 cents lower than the gas station by my house. (There are two numbers every American knows. Ted Williams' batting average in 1941 and the price of gas at his local station.)
• There is a Wal-Mart directly across the street from Cowboys Stadium. I guarantee you'll contemplate economic disparity in America if you stand in the checkout line at Wal-Mart across the street from a $1.1 billion stadium that will host about 100,000 fans paying an average of $2,000 per ticket to watch a game. Of course, you'll also ponder the wisdom of those rich fans paying $28 for a T-shirt inside the stadium when they sell for $15 at Wal-Mart.