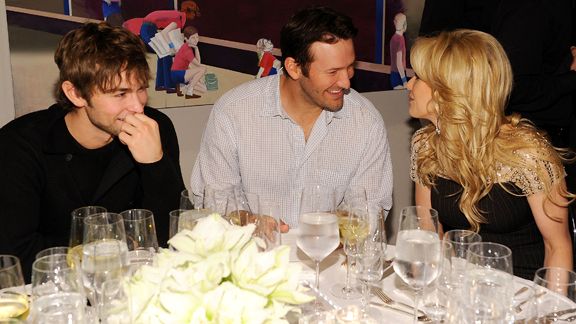 Michael Buckner/Audi/Getty ImagesActor Chace Crawford, Cowboys quarterback Tony Romo and TV personality Candice Crawford party.
Dallas Cowboys quarterback Tony Romo has been in an interesting position this past week: his city is full of excitement and throwing some of the biggest events of the year for a game he'd hoped to be a part of. But instead of sitting at home to languish over the Cowboys not being in the the Super Bowl, Romo decided to celebrate along with his city and help give back to the Dallas community at the same time.
Romo teamed with Starter to help unveil the refurbished Pleasant Grove Field, which was revamped by Starter athletic brand and will be the athletic hub to multiple middle- and high schools in the Dallas area. The cause is something close to Romo's heart as well as fiancée, Candice Crawford's.
"I covered high school sports in Dallas this past fall and high school football and high school sports hold a special place in my heart," Crawford said. "To be able to give back to the community and gave back to kids in that way is so unique."
Although the official unveiling at the field was delayed because of weather, Romo took time to for a quick Q and A.
Tell me about your role in the Starter project?
"Starter was generous enough to look at a few new schools and get excited to help out an underprivileged area in part of the city called Pleasant Grove and they gave them a new football stadium, soccer stadium and a new scoreboard and equipment to nearby schools. I was just lucky enough to be on board and be out here presenting for them."
Is it strange to see so many fans supporting other teams on your home court?
"I just think it's tough as a competitor and as a player to not be playing in the game, so I will not be attending the game. There can only be two teams every year and you have to understand that there's a lot of fan base for those two teams and they're going to be down here supporting their team. And that's what you want."
Since you won't be at the game, what's a party in the Romo house like?
"Well it won't be a party. There will be about four of us. I just like to watch football. Part of the thing about playing football is it's tough that you don't get to watch it on Sundays. I just love watching the game. I usually keep it to as few people as possible and watch the football game and enjoy watching the game."
How do you handle the pressures of wedding plans or do you leave that up to Candice?
I leave most of it up to her but I'll sneak in every once in a while. The moms all get together and have a good time.