Rest easy, Janet Jackson, because your global nightmare is over. You have been saved by the Peas.
The Black Eyed Peas were the headliners of the halftime show at Super Bowl XLV, marking the first time a relatively youthful group daring to include a sexily dressed woman have been featured since Jackson had her infamous wardrobe malfunction, aided and abetted by Justin Timberlake, in 2004.
After six halftimes that featured some of the world's oldest male performers, sexy came back to the Super Bowl.
But it was appropriate sexy, non-offensive to anyone.
If only the same could be said about Christina Aguilera's brutal pregame rendition of our national anthem.
Instead of singing "O'er the ramparts we watched were so gallantly streaming," she repeated "What so proudly we watched at the twilight's last gleaming."
Not a bad change, actually, but we usually like it the way Francis Scott Key wrote it in 1814.
She also managed to put four syllables into the word "wave," but still was "under" on the length of the song, clocking in at 1:55 when two minutes flat was the over/under.
In other words, 115 seconds we can never get back.
The Black Eyed Peas and guests took 12 minutes for their halftime show that was visually appealing if often off-key vocally. They quickly touched upon hits such as "I Got a Feeling," "Boom Boom Pow," and "Let's Get it Started."
Fergie, the group's sole female, was dressed in a black mini-skirt that brought back memories of "Xena: Warrior Princess." Fergie looked great, although she never found a key she liked during "Sweet Child o' Mine." But the important thing is that there was no wardrobe malfunction.
Guitarist Slash from Guns 'N Roses tried to drown out Fergie as she searched for a key, and then Usher literally dropped in from the giant scoreboard above to do his hit "OMG." One thousand dancers that glowed in Tronish outfits added to the futuristic stage show that made up in energy what it lacked in musical finesse.
And, compared to recent halftime shows, they all looked so young.
Lea Michele, one of the stars of "Glee," did a solid if unspectacular "America the Beautiful" just before Aguilera did an unintentional mashup of the national anthem.
So the Black Eyed Peas worked and brought back sexy and wholesome to the Super Bowl halftime, although it probably will be Aguilera who is remembered most.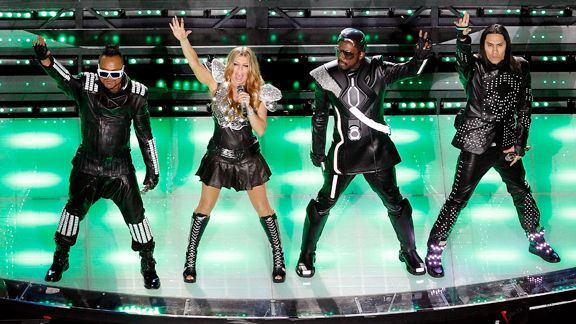 Tom Pennington/Getty ImagesThe Black Eyed Peas put on a wonderful halftime show. The same can't be said for Christina Aguilera.