DUBAI, United Arab Emirates -- When the call came to the home of Lt. Col. Michael Rowells, his wife, Molly, assumed it was a joke. Why else would someone insist her husband had won a chance to play a round of golf with Tiger Woods?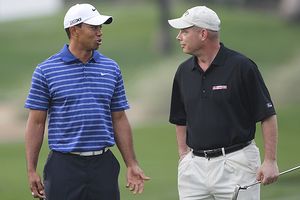 AP Photo/Kamran JebreiliDuring his round with Tiger Woods, Army Lt. Col. Micheal Rowells, right, said the two spoke mostly about Rowells' career in the military.
On Wednesday, the American serviceman teed up alongside the 14-time major winner at the Dubai Desert Classic pro-am. The 47-year-old Mississippi native had flown to Dubai from Afghanistan, where he is deployed with the 401st Army Field Support Brigade.
"It's amazing to watch how these guys hit the ball," the self-described golf fanatic said. "It makes me want to go back and practice, but I have to wait until October."
Rowells beat 16,000 other amateur golfers in a draw before the tournament at the Emirates Golf Club. In the middle of his first combat tour in Afghanistan, where his unit is charged with logistics, the father of four scrambled to get a passport for his trip to Dubai. He used a set of clubs borrowed from the golf course.
However, Rowells brought his own caddie. Huey Hughes of Charleston, S.C., is a fellow serviceman on their Bagram Air Field military base. He said he'd been working 14-hour days for eight months.
"Here we are fighting these wars and deployed and all of sudden he wins this tournament and you are hand-selected to be caddie with a guy," he said. "To come out and do this is an opportunity of a lifetime."