Scottie Pippen was part of Chicago Bulls teams that were among the greatest in NBA history, including the 1995-96 team that set an NBA record by going 72-10.
Some observers speculated last offseason that the Miami Heat would challenge the record with LeBron James, Chris Bosh and Dwyane Wade, but Pippen wasn't buying it.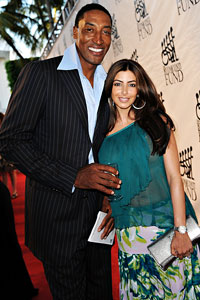 Gustavo Caballero/Getty ImagesScottie Pippen with his wife, Larsa, who will star on Bravo's "Real Housewives of Miami."
"Who would say something like that? You know how hard it is to win that amount of games?" Pippen asked this week on a visit to ESPN. "It's different if you get the record. I don't think no team can start a season out and say, 'We're gonna get the Bulls' record.' Because you already got your priorities messed up."
Pippen said the goal is to be the best team, regardless of win total.
"Ain't no owners wanting to have the 72 wins. The owner wants a championship. You can work out them 72 wins but, ultimately, I want you to be the best team. I don't know if they're the best team yet," said Pippen, who thinks Boston is the team to beat this season.
The NBA Hall of Famer, who is working for the Bulls again as an ambassador for the team at community events and team functions, could also be making a few cameo appearances on Bravo's upcoming "The Real Housewives of Miami," as his wife, Larsa, will be one of the women the show will follow.
Pippen said he was aware of the huge viewership the series has and not worried about all the drama the casts of past seasons seem to bring.
"My wife loves them too," he said. "So obviously, she decided to get involved. They may have me in some cameos here and there from some of the episodes they've filmed. I'm kinda passing through some scenes. It's not my gig.
"I volunteered to give them that little bit. I'm not part of the show. It's not my personality. But I'm happy for my wife. She's excited."
Pippen will also compete in this year's NBA Celebrity All-Star Game, which will air on ESPN on Feb. 18 at 7 p.m. ET.