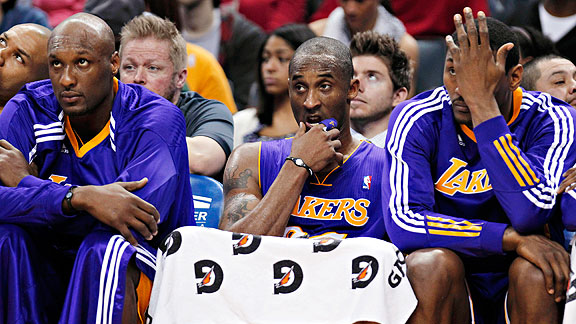 AP Photo/Bob LeveroneThe Lakers lost to Charlotte by 20. What do you think they're thinking at the end of the game?
At Page 2, we know you're funny, so share your gift. We'll find a great photo, and you provide the caption.
Lakers teammates Lamar Odom, Kobe Bryant and Ron Artest watch the final seconds tick away during a 109-89 loss to the Bobcats in Charlotte, N.C. on Monday. Lakers coach Phil Jackson said he was embarassed by the loss.
Give us your caption in the comments.
Yesterday: Our favorite from the photo of the Star Wars characters on the Suns' court from user billyoregano52: "We came to try and locate 'The Force,' but this is obviously not the team that Blake Griffin plays for."