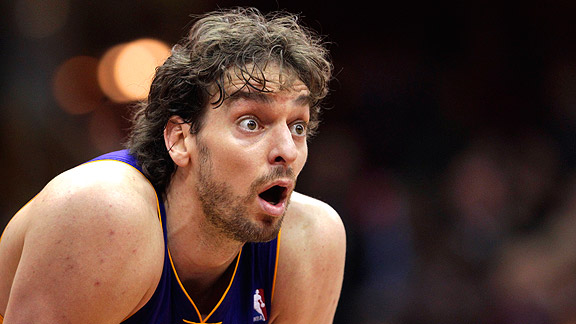 AP Photo/Amy SancettaUse your imagination: What was the Lakers' Pau Gasol so surprised about on Wednesday?
At Page 2, we know you're funny, so share your gift. We'll find a great photo, and you provide the caption.
The Los Angeles Lakers' Pau Gasol reacts on the court late in the fourth quarter during the Lakers' 104-99 loss to the Cleveland Cavaliers in Cleveland on Wednesday.
Give us your caption in the comments.
Yesterday: Our favorite from the photo of Michael Jordan and Scottie Pippen laughing during the Bulls-Bobcats game from user muz76: "Pip: 'That's your team Mike.' Mike: 'I know. I know. I call it a tax write-off.'"