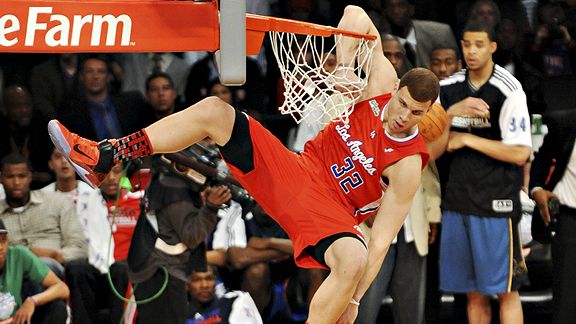 Evan Gole/Getty Images
Unless you have been living under a rock or on the dark side of the moon, you know that Los Angeles Clippers power forward Blake Griffin is the 2011 NBA slam dunk champion. On Saturday night, Griffin defied gravity and scared half the Clippers franchise by jumping over a 2011 Kia Optima, with Baron Davis in it, to win the title.
But what I bet you didn't know is that although Griffin dunks as though he has no regard for human life or his body, he actually does care about others.
For each time Griffin dunks in a game this season, he will donate $100 to the Dunking for Dollars campaign to fight childhood obesity. This is the same cause that first lady Michelle Obama champions.
"I think it's just important to be active as a kid. Growing up, that's all my brother and I did," Griffin says. "We were always outside playing some kind of game, whatever it was. Sometimes we would make up games."
The Nestlé Foundation has partnered with Griffin to match what he raises dollar for dollar. To see the good in this campaign, try to look past the irony of a company that produces calorie-laden chocolate bars joining the fight against childhood obesity.
"For me personally, fitness in general is big, and it was part of my major in college," Griffin says. "I've seen a huge growth in childhood obesity, and obviously it has become a problem."