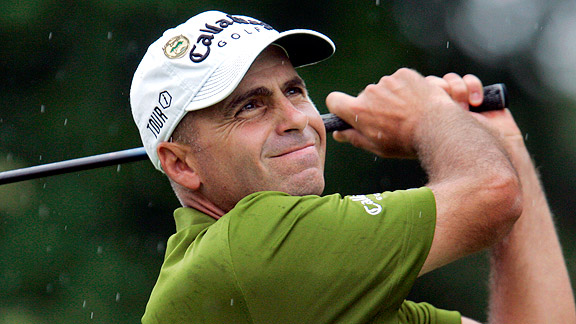 AP Photo/Steven SenneGolfer Rocco Mediate highlights our All-Labor Team. Thankfully, no possible strike in golf.
Because modern sports have more labor issues than a maternity ward, it's only fair and just to propose the names of the All-Collective Bargaining Team. In the name of making progress, it's time to rise up against the oppression of the system. Or teach the rank and file who's in charge here.
Craig Counsell: No matter how intensely we cheer for our teams, there would be no swinging for the fences or car-jumping without lawyers. And a couple of teams might not have won the World Series without the assistance of Counsell, a slap-hitting infielder who scored the title-winning run in 1997 (Marlins) and who was on base when Luis Gonzalez looped one through the middle to lift the Diamondbacks to the championship in 2001. He's been with the Brewers since 2007.
World B. Free: Whether called Lloyd Free while at Guilford (N.C.) College or World B. Free in the NBA, he was always Free in spirit and name. The prolific long-distance shooter presumably hungered for the sort of choice that LeBron and Carmelo enjoy today.
Don Lock: In 1963 and '64 combined, only 13 players hit more homers than Lock (55). Little, it seemed, could keep Lock out of the lineup; he missed only seven contests in that span. Moving ahead 40-something years and changing sports, we now know that if the two sides can't come to a deal soon, the NFL will enforce a lockout on its players.
Rocco Mediate: Talk about fighting the power … That's what the affable Mediate did in 2008 when he took then-omnipotent Tiger Woods to a playoff in the U.S. Open. But this being golf, the two sides didn't pelt one another with nasty accusations or other rhetoric. They settled the impasse with a gentlemanly round. This is sort of the approach observers hope the NFL players and management sides will take now that they've asked a federal mediator, a professional diplomat and go-between, to shuttle info between them.
Tim Pickett: Unlike his name suggests, Pickett didn't protest or complain or claim his situation was unfair. He just went out and played hard every night, amassing more than 1,000 points in two basketball seasons at Florida State. Since then, he was drafted by New Orleans and has labored all over the globe, playing for teams in Italy, Bulgaria, China, Puerto Rico and Israel.
Bob Walk: It was hard to tell if Bob did, in fact, walk out on the job back in 1981 when MLB players went on strike. The Braves placed him on the disabled list on May 29 of that season -- the same day the union's leadership voted to strike -- and he wasn't eligible to return to the active roster when the job (in)action officially began on June 12.