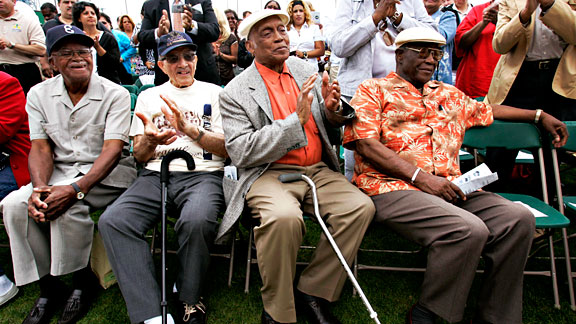 AP Photo/Mike DererJames 'Red' Moore, second from left, is honored along with other former Negro Leagues Newark Eagles players William Felder, Monte Irvin and Willie Williams at a 2007 ceremony at Riverfront Stadium in Newark, N.J.
While Albert Pujols is waiting for a fair contract of $250 million or more, Negro Leagues baseball legend James "Red" Moore remembers playing for $500 a month.
"My salary is his eating money," Moore said recently from his home in Scotts Crossing in Northwest Atlanta. "I guess I was born a little too early to make that kind of money."
Moore, 94, played seven years in the Negro Leagues for the Atlanta Black Crackers, Baltimore Elite Giants and the Newark Eagles before his baseball career was cut short because of military service. In his prime, Moore was one of the league's leading first basemen and entertained crowds before games by throwing the ball behind his back and between his legs. He was a three-time All-Star and played on three Second Half Championship teams. Moore got his nickname "Red" for his extremely fair skin and the color he would turn after a couple of innings on the field.
Moore was a lefty when left-handed gloves were not a priority in the Negro Leagues. He loves telling the story of how he would take a right-handed glove, turn it inside out and create a pocket to go to work on first base. Improvisation was nothing new to Moore, who grew up in Georgia practicing his batting skills with a stick, tennis balls and rags fashioned into a ball.
Major League Baseball and local Atlanta teams are doing their best to honor his legacy while Moore is still around to enjoy it. In a historic Negro Leagues draft held by the MLB in 2008, the Atlanta Braves drafted him.