The Hornets have several players with unusual names on their roster -- Didier Ilunga-Mbenga, Emeka Okafor, Quincy Pondexter -- so it's understandable that they might end up with a jersey misspelling now and again.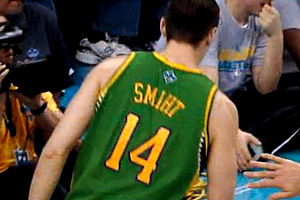 Paul Lukas/ESPN.comPage 2 thought "Jason Smith" would be an easy name to spell. Apparently, we were wrong.
What's less understandable is that they'd misspell Jason Smith's name.
That shot is from the first quarter of Sunday night's Hornets-Rockets game. New Orleans was wearing its Mardi Gras uniforms for the first time this season, and someone in the quality control department apparently got a little sloppy with Smith's jersey.
But someone apparently noticed the typo toward the end of the first quarter, because Smith came out for the second quarter properly "Smith"-ized.
Incidentally, this isn't the first time a pro sports team has turned America's most common surname into smithereens. Back in 2006, Colorado Rockies infielder Jason Smith (no relation to the Hornets player) had a similar problem. Maybe the Hornets were just trying to keep up with the Joneses.