Former NFL offensive lineman Steve Wright, who played for the Cowboys, Colts and Raiders during a 10-season career spanning 1981 to 1992, is competing on "Survivor" this season.
At 51, he's this season's second-oldest contestant, but he remains in tip-top shape and still cuts a mean figure at 6-foot-6. Page 2 sent him a dozen questions about his experience of being on the show that awards $1 million to the competitor who outwits, outplays and outlasts his or her opponents. Wright, who lives in Huntington Beach, Calif., shared his thoughts on the competition, infamous fellow tribesman Russell Hantz and whether he agreed with Jimmy Johnson's assessment that competing on "Survivor" was tougher than anything he encountered in football.
Page 2: Your NFL experience hasn't come up on the show so far. What was your strategy coming in? Did you want to keep a lid on your background?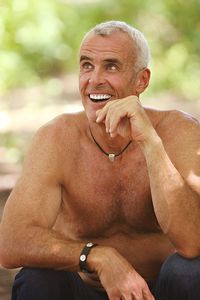 Monty Brinton/CBS "Survivor" competitor Steve Wright spent 10 seasons as an NFL lineman.
Steve Wright: I figured between my size, athletic ability and the general way I handle myself, I thought my background would surface sooner or later, so I started off saying that I played in 1981 and '82 for $30K and $40K, which was true and said I then got cut and was through.
Jimmy Johnson said being on "Survivor" was the most difficult thing he's ever done. How was it for you, mentally and physically? How does it rate against two-a-days or anything else in your football career?
Nothing is tougher than enduring sleeping on bamboo in pouring rain on a quarter cup of rice a day. Besides, your fate lies in their hands and how you deal or put up with them. In [football] training camp you had a king-size bed, endless amounts of food (which is all you think about in "Survivor"), showers, toothbrushes, etc.