Charlie Sheen has been has been a treasure trove of quotes as of late and now there's more gold now that he's on Twitter.
In one of his first Twitter blasts, Charlie again reaffirmed his love of baseball by showing off some amazing baseball memorabilia, Babe Ruth's ring.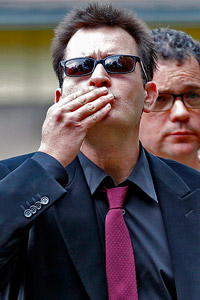 AP Photo/Ed AndrieskiCharlie Sheen (Babe Ruth's ring not shown) is soaking up the attention on Twitter.
Check out Sheen's picture in which he shared Babe's 1927 Championship ring, saying, "The only watch that keeps Warlock time -- Class of 1927 ring 'Bambino U' #winning"
The ring's significance was lost on some people, who offered responses like "Can I do your nails?" and "Nice watch." But he is actually sporting Ruth's real ring, for which Sheen reportedly paid $250,000 nearly a decade ago.
Sheen's ring has appreciated nearly as fast as his Twitter rank. Some sports ring experts estimate its value has increased to well over half a million dollars, while in 24 hours Sheen has gained well over 1 million followers.
Speaking of "Nails," Charlie also showed off the ring to Lenny Dykstra as well as to other diamond stars including Brian Wilson, Kenny Lofton, Todd Zeile, and Eddie Murray at a special Sheen soiree and "Major League" screening over the weekend.
So is Sheen drumming up support for a fourth "Major League" movie? Maybe, but he was definitely using his ring to win over the crowd as he passed the Babe's bling around.
Also present at the party were Colin Farrell and "Major League" writer/director David S. Ward, who noted, "To wear the ring Babe Ruth once wore, it was humbling for a baseball fan."
Only time will tell if Sheen, who has referred to himself as a "cleanup hitter in perfect shape and sitting on the bench," will be called up to do another project. In the meantime, fans can watch out for more displays of Charlie's love of the game via the "Unemployed Winner's" Twitter account.