Welcome back to another edition of Page 2 Jeopardy!, the quiz that tests your knowledge of sports, pop culture and assorted trivia. Please remember to phrase your responses in the form of a question.
(Correct questions at the end of the quiz.)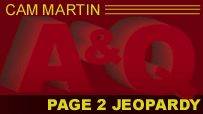 1. Answer: Of 7 percent, 27 percent or 57 percent, the percentage of college football players on Top 25 teams in 2010 who had criminal records, according to an investigation by Sports Illustrated and CBS News.
2. Answer: White Sox catcher A.J. Pierzynski was wearing this when police in Arizona pulled him over for speeding.
3. Answer: This former Cy Young winner with a history of drug abuse will reportedly appear on "Celebrity Rehab."
4. Answer: This former first-round NFL draft pick cost himself a $9 million bonus because he was unable to record a sack, forced fumble or fumble recovery in 2010.
5. Answer: Tom Bowles, a freelance writer covering this sporting event for Sports Illustrated, was fired for "cheering in the press box."
Question 1: What is 7 percent?
Question 2: What is his baseball uniform?
Question 3: Who is Dwight Gooden?
Question 4: Who is Vernon Gholston?
Question 5: What is the Daytona 500?