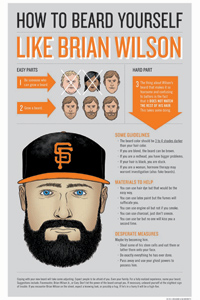 McSweeney's
You may have noticed that Dave Eggers, founder of the San Francisco-based publishing operation McSweeney's, recently wrote a piece of fiction for Page 2 about Giants closer Brian Wilson's beard. Now the McSweeney's folks have come up with a companion piece: an instructional poster showing how to grow a beard just like Wilson's.
Eggers' short story and the poster (which is available for sale here) both trade heavily on subtlety, nuance and deadpan irony -- terms that aren't usually associated with Wilson. All of which begs the question: Does Brian Wilson know that the McSweeney's guys really dig his beard? Has Brian Wilson even heard of McSweeney's?
"We've never spoken with him, and there's zero evidence that he knows or does not know about us," says McSweeney's operative Adam Krefman. That will probably change soon, given the way news gets around the Internet these days. Assuming it does, here's a modest proposal for when the Giants visit New York for an early May series against the Mets: Arrange to have Wilson make an appearance at the Brooklyn Superhero Supply Co. (a McSweeney's side project), and make sure the shop has plenty of fake beards in stock. Imagine lots of kids running around Brooklyn with their superhero beards -- they'll be invincible! Just like Wilson.